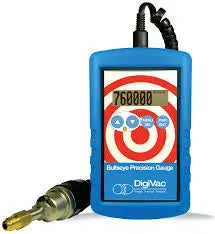 Vacuum Gauge With Real-Time Analytics | Bullseye Precision Gauge
Regular price
$550.00
$0.00
Unit price
per
Bullseye Precision Gauge Product Specs
Bullseye Precision Gauge Quick Start Guide
Looking for a battery-powered micron gauge that is rugged, has unmatched accuracy, and expert HVAC techs rely on. Our USA-made micron gauges are the answer. Pinpoint the Root of the Problem: A rugged, portable Micron Gauge designed to meet the demands of service calls and provides Master-Level Diagnostic Results with Graphics that Pinpoint the problem so you can quickly get to the solution; Troubleshooting Graphics you can easily share with other technicians. Show Your Technical Savvy and Guarantee Reduced Call-Backs through on board diagnostics and intelligent analytics.
- Get it right the 1st time saving time, money, and customer aggravation
- Accuracy you can trust—based on proven thermocouple vacuum sensing technology
- Graphics that provide a snapshot of the problem: Pump, Leak, Out-gas or stable, no longer having to guess what is going on with the system based on current numeric readings alone
- Provides trends over time—shows the progression of pump down throughout the evacuation and gives you an early warning that a leak is present saving you time Robust, Accurate and Serviceable
- Accuracy no matter the ambient temperature
Simple and easy to use with Replaceable sensor, 70 hour battery life, and Super-strong magnet for hands-free operation.
---